Creating theater, as anyone who has ever made it understands, is an exercise in giving up control. I myself have incredible difficulties letting go, which is why I often have an overwhelming need to direct while I'm acting and a desire to act when I'm directing (perhaps why my recent discovery of solo performance feels so good!) Yet I'm also a firm believer that one should never blindly accept the first choice that is made or the first idea that arises – testing and experimentation is a necessary step in the process. Following this experimentation often leads productions into uncharted or previously unthought of territory; in the past for me this has meant turning a roving promenade-style production into a cabaret, among other things. Juniper Street, our upcoming Play/Feast/Sleepover/Party, was borne of such extreme twists and turns that I wanted to share its history, influences, and origins.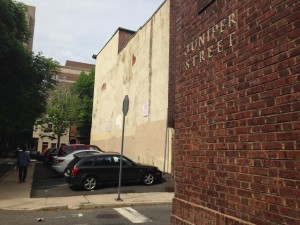 I write as insider and outsider. My Co-Artistic Director Swift Shuker (who goes by gender-neutral pronouns, so look for the singular "they" further along) is directing the play and has led the creative process from the beginning. I can't speak to their thought processes in following the path this production has taken, so as you see descriptions of their epiphanies and discoveries, know that the writing is coming from my conception of what happened, not the objectively correct one. I am also performing in Juniper Street, and I've done a large chunk of the producing work, so I have been along for the ride since its inception.
Our first project was never supposed to be Juniper Street. When we were forming [redacted], our initial plan was to produce a play called Household Objects, the idea for which came from a simple poll of our artists which asked, "What kind of show do you want to make?" I synthesized all the responses into the premise for this show – landing us both very close to and very far from Juniper Street from day one. The play took place in a house occupied by a group of artists. Several years ago, they lived and worked together in a foreign country and made some very exciting work. A variety of issues caused them to separate and move back to America. After several stagnant years in America, they decide to move to a house in Philadelphia and try to recreate the atmosphere so pervasive abroad. They begin work on a new play to premiere at the 2014 FringeArts Festival. However, they realize it won't be ready in time and a series of conflicts adds tension to the house. When audience members show up expecting this new play (all advertisements would describe the play they intended to make – disingenuous advertising is one of my long-time interests), they are greeted with an apology and the news that the play is not ready. For the remainder of the day, audience members experience the very real space that is the house of these artists and they both witness and help re-create the magic of the new play and of making art.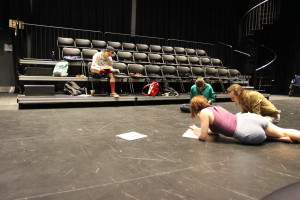 We abandonded Household Objects before the first rehearsal. As a brand new company we wanted to start with as much momentum as we could, leading us to decide to produce The Real World Will Never Arrive, Swift's Swarthmore College playwriting thesis about high school, suicide, and the realness of that experience. The play had some readings in Philadelphia, and we happened to have almost the exact cast breakdown with a few interested designers. Working with an existing, strong text took away some of the burden of creation.
We traveled to schools in Philadelphia to secure a classroom, library, or auditorium for a venue. The production wanted a nontraditional space; it wanted the hierarchies, formality, rigidity, and authority of high school to be immediately palpable. Despite getting a few leads, we decided against that production. The first recurring roadblock of this process reared its ugly head: cast members changed and dropped out. It wasn't the right time to nail down a play with a set number of roles. Look for The Real World in the future.
Then, the inciting incident: Swift walked down Juniper Street in South Philly. After they described the experience to me I made it a point to check out that particular stretch of road, and I had a similar reaction. Swift described the sensation as this: it was as if they had lived on Juniper Street in a past life, or would someday live there in the future. It's not the same sensation I have when I walk down Addison in Rittenhouse, where the quiet tree-lined streets lit by Christmas lights make me think gee, how great would it be to live here, everything would be easy and pretty and nice. It's more resonant, more permanent, more spiritual than that. Swift told [redacted] of the experience and of the Penates, Roman household deities, and we decided to pursue a creation called Juniper Street.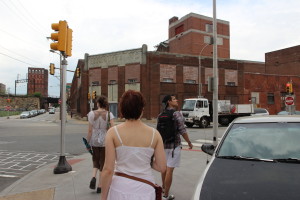 Our early experiments featured a revolving door of artists – different minds and energies in the rehearsal space every day. We began with relatively abstract ideas: bringing in talismans against death, telling the story of the last time we felt at home, photographing places in Philadelphia that called out to us, creating plays and Internet performances about making home out of inhospitable places, and even creating ten-hour-long shows and performing the first hour. We generated an enormous amount of material, some which made a lasting impression and some which were forgotten instantly. After about a month of swimming in a pool of "home-ness", it was time to focus down.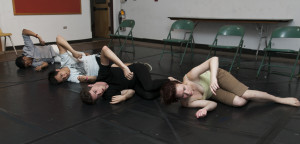 Luckily, Swift has a gift for that sort of thing. They can see specific narratives in very abstract improvisations. It's a skill I need to develop – I almost always go for the image first and hope someone else will see the story later. We performed a rather long improvisation using some of the prior vocabulary and voila, the first draft of the Juniper Street story was born.
It became clear during this stage that we needed to perform in an apartment. The audience should feel at home too, not just us. We could not accomplish that goal in a theater, at least not with the resources we have. Somewhere along the line we discussed the idea of serving the audience dinner. Gradually the idea of a sleepover arose, it having been a prior dream of Swift for another production. Informed by the 10-hour play improvisations and the early experiments on home, we realized that feeling at home takes time. You can't just throw people in a room and make them sleep together, it's a gradual process.
We worked on that version of the story for a bit – fleshing out its characters and figuring out the relationships. Swift wrote furiously when the rest of us weren't writing with our bodies. Then, once more, there was a cast shakeup. We had to simplify. And the final narrative for Juniper Street solidified. Check out our page for more details.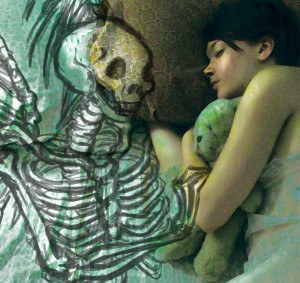 It's been a long ride, but we're finally ready to welcome you into our home. August 22, 23, 29, and 30 at 8:00pm. Pay whatever you want (but we recommend $20). Email redacted@redactedtheater.org for reservations, the address, and a donation link. I can't wait to see you there.